Here's the information about our program at the Waterford Senior Center.  Sooner or later everybody could use some help with long term care expenses, especially in-home!
Medicaid and the VA's improved pension program (often called Aid and Attendance) are two of the most valuable benefit programs out there.  But, both have strict eligibility rules that can prevent you from getting your benefits.
So here it is:  learn what you should not do, and what you should do to get your benefits to live at home with the help you need.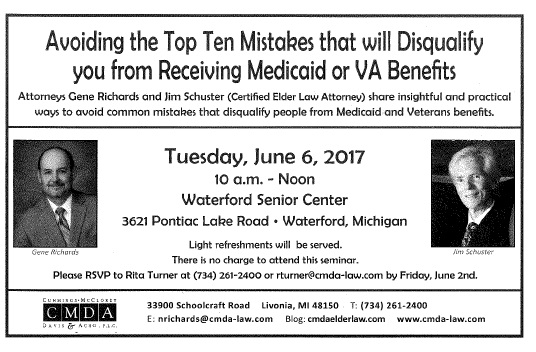 If you can't make it to the program you can call us at (248) 356-3500 for an appointment.  Or, if you are not yet ready for an appointment you can inquire about how to get on our email list to learn about future programs.  Or, you can have us come out to your group and present the program.
All the best,
Jim