Conquer The Challenge Of Long Term Care – May 30, 2017
A Free Pure Educational Program Presented by
Jim Schuster, Certified Elder Law Attorney ◆ Norman "Gene" Richards of CMDA Law Firm
Tuesday, May 30th 6:00-8:00 p.m. Livonia Civic Center Library, 32777 Five Mile Road
(Seating really is limited. Call Dawn or Jim to register at (248) 356-3500 )
Long term care: most people tell you "It's about the money. Do you have enough?" Yes, money is part of long term care, but it is more about quality of life. To conquer the challenge you need to know how to save your money, how to get the best care, and how to get the benefits you have earned when "the system" seems determined to block you. Be prepared to overcome all obstacles. We will show you how.  Come with questions.  Leave with answers.
Be a Powerful Advocate
The Benefits
The "secret" Medicare options to get the best care and avoid the nursing home.
Wartime veterans  VA "Aid & Attendance" benefit gives tax free money for in-home help.
Medicaid nursing home benefit and the "secret" benefits that may enable you to leave the nursing home and return home.
How to get your benefits and save your money
How to get your "secret" Medicare benefits.
How veterans can safely reduce "net worth"  and get  VA Aid & Attendance.
How to minimize damage of nursing home Medicaid "spend down" (save your money).
How to avoid disastrous mistakes
The Common Mistakes that can delay or deny your benefits and how to avoid them.
How to qualify for "Aid & Attendance" VA benefits without violating Medicaid's 5 Year Look-Back by mistaken gifts or annuities.
How to pay for in-home help and not violate Medicaid divestment or the IRS tax rules.
How to avoid losing your home and life savings to the nursing home or the government.
What to do now
The Five Essential legal documents you must have that will prepare you for the future no matter what happens in government or in your life.
How to provide for your spouse who may need a nursing home after you die.
A free review of "estate planning" documents will be offered to attendees.
Jim Schuster, Certified Elder Law Attorney, and Gene Richards, Elder Law Attorney will share their decades of experience with you. You will become a powerful advocate for yourself and those you love.
Jim Schuster, Certified Elder Law Attorney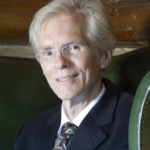 Gene Richards, Elder Law Attorney with CMDA Law.